If you have a different question please check out our contact channels
Frequently Asked Questions
What does joining the Allies for Uluru mean?
As a member of the Allies for Uluru, you are joining 275+ civil society organisations from across the country who have proudly come together to support the implementation of the Uluru Statement from the Heart, starting with the establishment of a First Nations Voice to Parliament enshrined in the Constitution.
Above all, joining the Allies for Uluru Coalition means you are pledging your support to learn from and engage with educational materials and resources on the Voice, activate your networks of employees, members and supporters and mobilise your community and sector to secure a Yes vote at the referendum later this year.
It is an invitation to seize this historical moment and join this movement to constitutionally recognise Aboriginal and Torres Strait Islander peoples in a meaningful and practical way that will give them a say in the policies and decisions that directly affect their communities.
You can read more about who we are, how to join and what becoming a member might look like for your organisation on our About page.
We've signed up. What's next?
Thanks for signing up to become a member.
Shortly after completing your sign up, you will receive a welcome email with a summary of the work we've done so far, a 'Getting Started' guide and some simple next steps that your organisation can take to begin or further your journey as an Ally.
As part of your membership, you will be invited to monthly working group meetings where you can listen to respected guest speakers, learn from and collaborate with other members and share any questions, challenges or achievements that your organisation may have. These meetings are, above all, information sharing networks to allow your organisation access to shared resources and toolkits for mobilising your staff, board, corporate partners and supporters, and to guide future resources and action.
If you have time, please complete our short survey in order for us to better understand your organisation and needs.
How do we connect with other Allies for Uluru Coalition members?
Please send a request to join our private Allies for Uluru Facebook group where members can exchange and workshop ideas, make connections, and post about activities. Follow the social media buttons below to get you there.
We will also soon be sharing a list of key contacts organised by state and sector and encourage organisations to reach out to create location or sector-specific sub meetings, collaborate on events and leverage their community networks.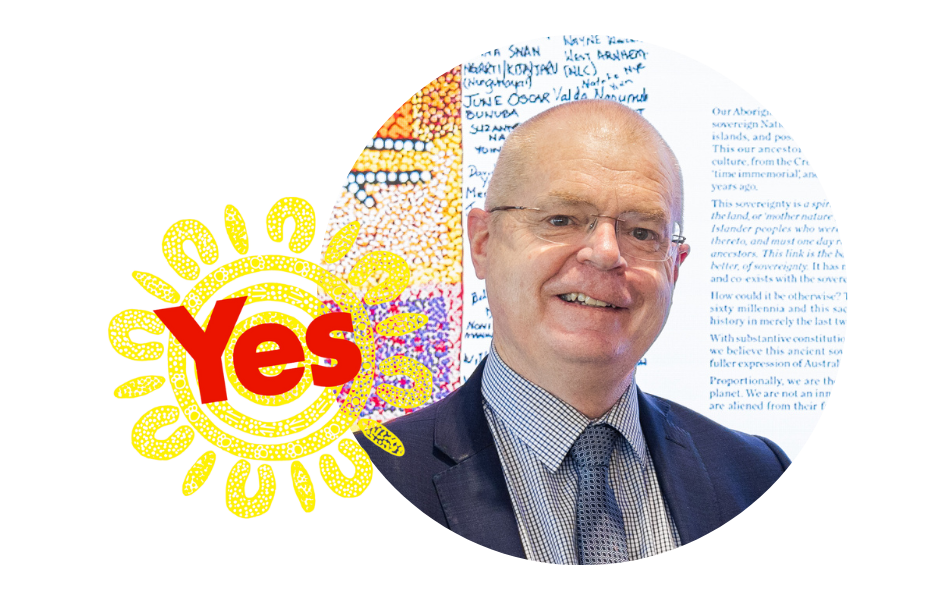 "Sight, good health and the right for people to have a meaningful say on decisions that affect them are basic human rights and The Fred Hollows Foundation stands with Aboriginal and Torres Strait Islander people to call for these rights, which can only be achieved through a constitutionally enshrined Voice to Parliament."
Ian Wishart - CEO, The Fred Hollows Foundation